Deer Lake Health Day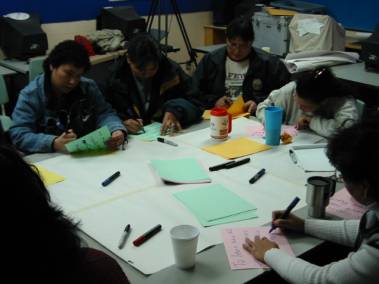 Deer Lake's "Focus On Health Day" began in the David Meekis Memorial School's Computer Lab.
The Kuh-ke-nah Smart Program staff started off the workshop with opening remarks from Les Meekis. Ricardo made a presentation to the Deer Lake health team and interested community members about what the new technology can do to help implement the goals and expectations for local health services in Deer Lake. Keewaytinook Okimakanak staff were on hand to both provide assistance and gather community input.
Health Agenda
We identified who was present and who was absent in the health sector, with the aim of ensuring that those who are away are invited to review and comment on the workshop results.
Present

Charlene Meekis, Healthy Babies, Healthy Children

Jill Quill, Assistant Health Director

Victor Meekis, Community Health Rep, Radiography

Sidney Meekis, Health Committee Member

Lily Sawanas, Telehealth Coordinator

Christina Kekegamic, Chair, AHS

Erma Mekis, Tikinagan

Linda Kay Peters, KO Health Program Assistant
Phyllis Chowaniec, KO Long Term Care
Jacob Ostaman, KO ED Worker
Patrick Koostachin, Education Committee
Roland Pemmican – NADAP (Native Alcohol Drug Abuse Program), EDC
John Meekis – Education Director
Alvina Fellowes, Program Leader, AHS

Marlene Kakepetum, Healthy Babies, Nutritionist

Absent

Ananias Sawanas, Health Director
James Meekis, Councillor, Health Rep.
We gathered expectations on cards.
What is Good Health?: Spray Diagrams
Participants brainstormed on what GOOD HEALTH means in Deer Lake. The diagram allows everyone to "spray" their ideas on to paper.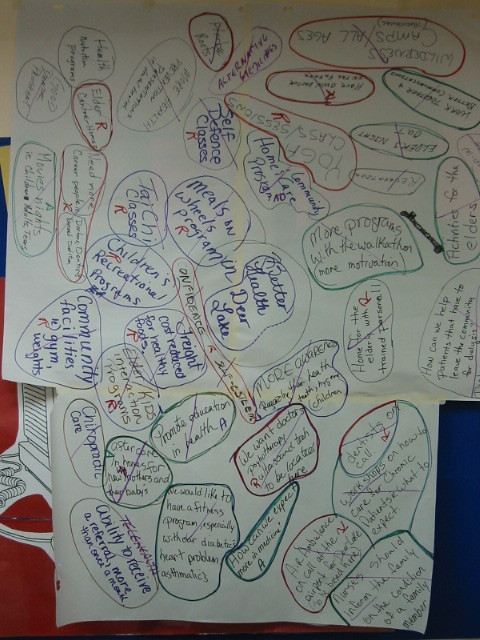 From the spray diagram, we worked on another one, describing:
the vision or results that the health workers are working towards (large bubbles),

the programs they are involved with

(in green),

how they are using and plan to use the technology that the SMART project brings to the community

(in red),

and

what to measure to show that the visions or goals were being reached, or that the programmes were moving ahead yellow sticky papers)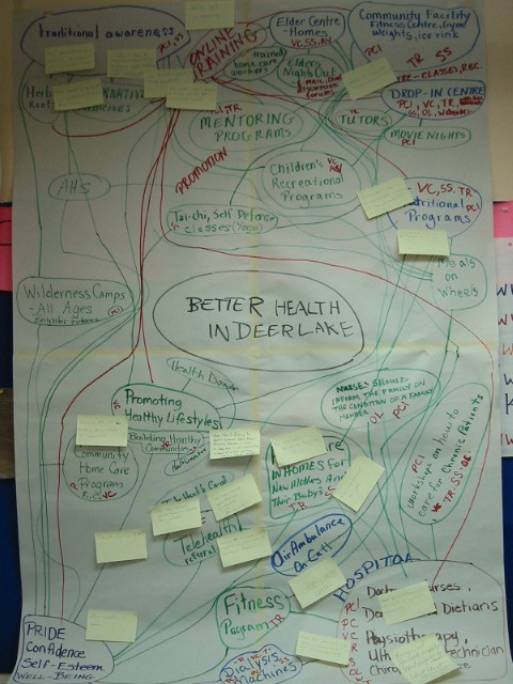 Table of Results
The table below is a summary made from the diagram. Many programme outcomes contribute to more than one result. Programmes that are already using SMART technology have red letters for video-conferencing (VC), personal computers with Internet (PCI); training (Tr), service support (SS); On-line services including list serves, chat, discussion forum (OL); websites (W); and new technology (T); E-Centre programmes are all in red.
Table of Results, Programmes (outcomes) and indicators for Good Health in Deer Lake.
Results

Indicators

Programmes

Indicators

Pride, confidence, self-esteem, well-being

More youth cooking traditional food at community level

More traditional food prepared

More youth in traditional cultural activities

More videos on local TV on activities related to traditional values and beliefs

Children to hear the language (singing, talking), children to smell traditional foods, children interacting with elders

Fitness program (Tr)

Community home care program

Promoting healthy lifestyles (Health Director; Building Healthy Communities)

Telehealth referral, telehealth coordinator

After care in homes for new mothers and babies

Meals on wheels

AHS

Wilderness camps, all ages (Brighter futures)

Tai-Chi, Self-defense, yoga classes (VC)

Nutritional programs (VC, SS, Tr, PCI)

Online training

How many telehealth sessions there are between Drs and patients

Access video conferencing to deliver and implement speech therapy/ pathology program in order to keep kids in our communities instead of urban centers (special needs children)

Increase numbers of people using/requesting the use of telehealth services

How many trained people there are, eg. Telehealth, CHRs, after care workers

Number of buildings being made in community

Hospital

More programs/services available to community members

Nurses should inform the family on the condition of a family member (OL, PCI)

Air ambulance on call

Doctors, nurses, dentists, dieticians, physiotherapy, ultrasound technician, chiropractic care  (PCI, PC, VC, Tr, SS, OL, W, T)

Less turn over ratge of doctors, nurse, dentist and other professionals

Workshops on how to care for chronic patients (PCI, Tr. SS, OL)

Dialysis machine (and other equipment) (Tr, VC, T, PCI, PC, SS)

Latest and best equipment for workers (X-ray, ultrasound, dialysis)

Recognized for work completed (equal salaries for local people)

Nutritional programs (VC, SS, Tr, PCI)

More material and equipment for prenatal nutrition program

More workshop training of youth, elders, consisting of internet and computer and tutorials

Drop-in center (VC, SS, Tr, PCI, OL)

Movie nights (PCI)

Tutors (Tr)

Online training

Community facility, fitness, gym, weights, ice rink (VC, Tr, PCI)

Online training

Elders' centre, homes (VC, SS, PCI)

Trained home care workers

Elders' night out (e-mail, chat, discussion forums)

How many trained people there are, eg. Telehealth, CHRs, after care workers

Traditional awareness (PCI, SS)

Herbs and roots Online training

Alternative medicines

Wilderness camps, all ages

Childrens' recreation programs (VC, PCI)

AHS

Mentoring programs (PCI, Tr)

Online training

Money kept in the community

(Support to all results)

Promotion of E-Centre

Usage of internet by types of activities

 (Support to all results)

 
Some indicators that were suggested are broad and cover many services and sectors, and they are already being tracked with the household surveys:
More computers in homes

Internet use in Deer Lake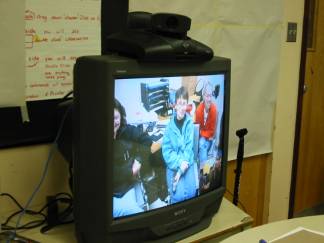 At the end of the session we held a videoconference session with the telehealth group in Balmertown. This allowed the group to ask questions about what services and equipment the programme will provide.