Health
Workshop Day 2, Tuesday, November 20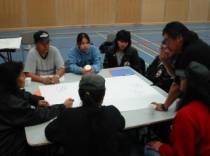 The workshop began with an opening prayer by Halum Kakepetum. Raymond Mason gave introductions of the Health staff, Smart people as well as the people fromTelecommons.
Ricardo Ramirez (Telecommons Development Group), introduced the days agenda.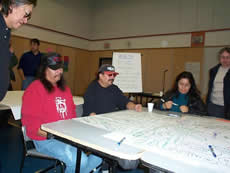 Here is Les, Lawrence, Raymond, Dorothy and Helen.
Health Agenda
We identified who was present and who was absent in the health sector, with the aim of ensuring that those who are away are invited to review and comment on the workshop results.
Present

Dorthy Kakepetum, BDC

Mary Kakegamic, Home Care

Karen Kakepetum, HBHC

Halum Kakepetum, Transportation

Lawrence Mason, Mental Health

Kathleen Kakegamic, Referral

Nancy Kakepetum, Crisis

Mary Jane Kakepetum, Nutrition

Absent

James Kakepetum, Health Director (attending meeting in Balmertown)

Doreen Kakepetum, CHR

Yvonne Kakepetum, NNADAP

Duane Kakepetum, Maintenance

Sally Day, Home Support

Martha Rae, Home Support
Everyone is asked what they came to this workshop expecting . The ideas were written on coloured construction paper, with one idea per piece to see the community take charge of health and technology in a practical manner
We gathered expectations on cards.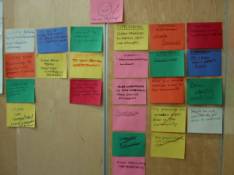 | | | | | | |
| --- | --- | --- | --- | --- | --- |
| Technology | Community Awareness | Smart Awareness | Public Meetings | Services | Training |
| using technology for better communication and information gathering | To see the town take charge of health and technology in a practical manner | To learn more about the Smart program to get informed | Public meetings to express ideas and thoughts | Quick sevices | Get connected to more resources about health issues |
| using new technology to have better programs and services | Good role model, Show the community members | To get better understanding | Have more workshops in Keewaywin | Reduced trips | To learn about health care |
| I am able to get some training to work with the equipment | | To find out how this program will help the community work towards improving health | More workshops in the community from outside resources | Have all health services come to the community | Get an education through Smart |
| Update our computers. I need a computer for the program | | | To meet all the people involved | To provide services right here in the community | Provide me with more ways to get access to resources |
| | | | Community participation | More personal interaction with professional people | |
| | | | more participation in workshops | | |
Participants crossed off the expectations that had been met, others that were not point at services that the E-Centre may want to offer.
What is Good Health? Our Spray Diagrams..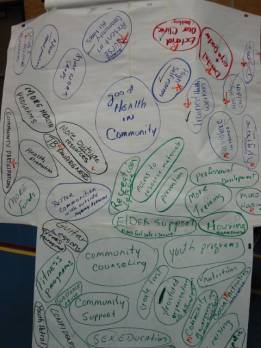 Participants brainstormed on what GOOD HEALTH means in Keewaywin. The diagram allows everyone to "spray" their ideas on to paper.
From the spray diagram, we worked on another one, describing:
the vision or results that the health workers are working towards (large bubbles),

the programs they are involved with

(in green),

how they are using and plan to use the technology that the SMART project brings to the community

(in red),

and

what to measure to show that the visions or goals were being reached, or that the programmes were moving ahead yellow sticky papers)

The table below is a summary made from the diagram. Many programme outcomes contribute to more than one result. Programmes that are already using SMART technology have red letters for video-conferencing (VC), personal computers with Internet (PCI), list server (LS); E-Centre programmes are all in red.

Table of Results, Programmes (outcomes) and indicators for Good Health in Keewaywin.

Results

Indicators

Programmes

Indicators

Comments

Community awareness

Nutrition:  better awareness of diabetes and more people involved in the diabetic programs

More awareness for Pregnant moms, drugs, smoke,alcohol abuse.

Elder support (Video Conferencing)

Organization and coordination (Live Sessions)

Community website showcasing activities and programs

Awareness on: TB, diabetes, STD, drugs and alcohol abuse, family violence, sexual abuse

Healthy foods

Better nutrition, more traditional foods, class room visits, more healthy foods in store

Elder support (Video Conferencing)

Healthy babies

Homecare

Nutrition

High esteem

Less violence, suicide rate drops,

Less vandalism;

People involved in more positive activities

People are working to keep their land clean (sense of pride)

Social activities (computer club)

Mental health

Fitness program

More community involvement in various programs, ie fitness programs, guitar lessons

Day Care

Healthy babies (Phones Computers & Internet)

Healthy children

Pregnant women: drugs, smoke, alcohol, abuse awareness

Statistics, how many children seen and for what; more prevention awareness

Home visiting: let parents know about parenting and pre-natals

Healthy babies (Phones Computers & Internet)

Nutrition

Home care

Fitness program

Stress management

Less violence

Better overall health

Better quality of work

Guitar lessons

Therapy

Organization and coordination (Live Sessions)

Fitness program

Leisure and recreation

More community involvement in various programs, ie fitness programs, guitar lessons

Good hygiene

Better health

Improved personal appearance

Class room visits – teaching

Hygiene awareness

Home support

Healthy babies (Phones Computers & Internet)

Housing awareness

Improved living conditions

Better maintained homes; Houses last longer; Less overcrowding

Better home environment, clean house

Home support (for) clients

Elder support (Video Conferencing)

Homecare

Community counseling

Non violence in homes

Dry reserve

Activities in community

Curfew

Mental health

Drugs and alcohol (Phones Computers & Internet)

Crisis co-ordinator

(PCI)

Confidentiality (patients) (Video Conferencing)

Discuss personal – private issues with worker, ie MHO, NDAP, BFL on chat, if you feel uncomfortable with eye contact

Brighter futures

Referral clerk

Dentist and eye doctor

Dentist and eye doctor

Funds

Videoconferencing

Number of workshops and training increased through Video Conferencing

Extended clinic

More people to work (offices), more offices in clinic

Funds

Videoconferencing

(as above)

Nurse present at all times

Transportation

Funds Videoconferencing

Telehealth-less medical visits to outside community, more patients treated in community

Trained health staff

Workshops and training (Video Concferencing)

Organization and coordination (Live Sessions)
The table includes the indicators developed with the Health group; further inputs are needed from other people who were away. TeleCommons will review the inputs and suggest additional indicators and ways of collecting them in future.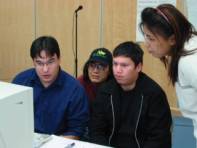 During the day, Jesse Fiddler did demonstrations on how to develop a website to upload the workshop results.