North Spirit Lake Economic Development Day
We identified who was present and who was absent from the economic development sector, with the aim of ensuring that those who are away are invited to review and comment on the workshop results.
| | |
| --- | --- |
| | |
| Massan - Economic development | Martha Campbell - Band manager |
| Donald Campbell - Project manager | Margaret Kakegamic - CRN |
| Darlene Rae - E - center manager | Isaac Linkliter - Chief |
| Charlisa Fiddler - Computer technician | Boyce Meekis - Councilor |
| Dale Jack - CAP worker | Darcy Keesic - Rae - O.P.W. |
| Arnold Thomson - Multi-media | Cameron Rae - Councilor |
| Wally Meekis - Councilor | Lorrie Rae - Secretary |
| Donna Campbell - Band finance | Isaac Kakegamic - Plant worker |
| Martin Rakagamic - Power authority | |
SMART Opportunities
| | |
| --- | --- |
| At the beginning of the workshop, Dan Pellerin (K Net) explained the goals and objectives of the SMART program and the opportunities that exist for each of the KO communities. | Jesse made sure that all the activities conducted during the workshop were properly recorded. |
Cards
Once again, we gathered expectations on cards.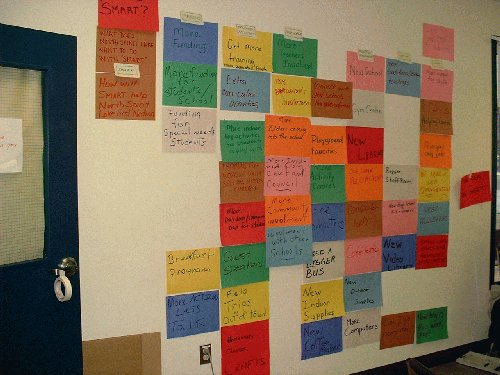 Native

Information and programs

Job creation

Services

Facilities and infrastructure

Training

*Culture programs

*Trapping youth need to know how

*English language be translated into Oji-Cree and be written in syllabics

*Understanding of programs

*Where to ask for information on programs

*Information on land use for NSL

*Easy access to programs

*Head start program

*Creating jobs within the community

*Land use

*Logging

*Fishing

*Mining

*Tourism

*Hotel that will bring revenue to the community

*Bank machine

*Photographer who will develop pictures in the community

*Coffee shop

*Fast food services

*New store

*Auto shop repair

*Better roads

*New Band office

*More housing

*Hydro grid

*Business centre

*Recreational hall

*Playground

*Day care centre

*Church

*Training programs

*Computer training for Band staff

*Hotel management

*Office management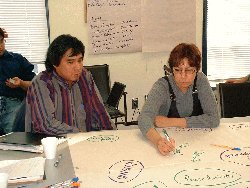 Participants brainstormed on what economic development means in North Spirit Lake.
The diagram allows everyone to "spray" their ideas on to paper. The participants wrote down the goals (in blue), existing programs (in green), and proposed programs and activities (in red).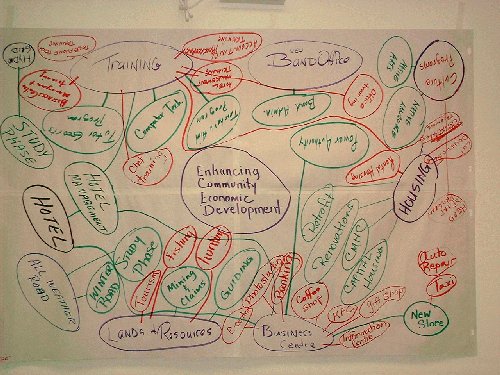 | | |
| --- | --- |
| Jacob Ostamus (KO - Economic development) explained the KO Economic Development Strategy. | Whenever necessary, Les translated from English into Oji - Cree, thus giving a chance to all the participants to understand what was going on and to provide input. |
From the spray diagram, the participants worked on another one, describing:
- the goal or results that they are working towards (in blue),

- the existing programs (in green),

- the proposed programs (in red),

- where and how they are using the technology (in orange),

- how they plan to use the technology that the SMART project brings to the community (in purple), and

- what to measure to show that the results or goals were being reached, or that the programmes were moving ahead (yellow sticky papers)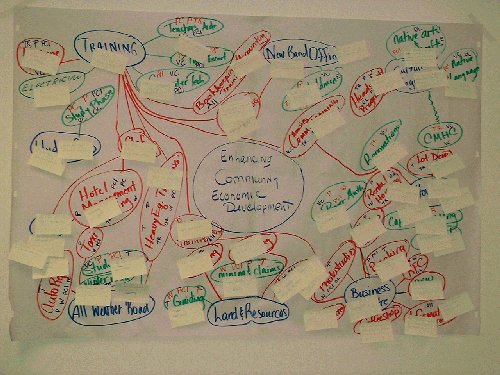 Table of Results, Programmes (outcomes) and indicators for Economic Development in North Spirit Lake.
Programmes that are already using SMART technology have red letters for phone (P), video-conferencing (VC), personal computers with Internet (PCI); training (TR), service support (SS); On-line services including list serves, chat, discussion forum (OL); websites (W); and new technology (T). The future use of technology for different programs is in orange (and we used the same abbreviations as in the case of present use of technology).
Results

Indicators

Programmes

Indicators

New Band office

*New Band office with more offices and a board room

*Better equipments and computers

Capital housing (TR) (VC)

More houses done faster

Housing

*Better and more housing

*Electrical heat

*Bigger housing with more rooms

*Better housing materials and supplies

Retrofit (TR) (VC)

*Running water and sewage in each home

*More plumbing

Business Centre

Employment

Power authority (PCI,P,W) (T,VC)

More street lights

Land and ressources

Renovation (TR) (VC)

Better housing with extensions

All weather road

*Create employment

*Economic feasibility

Canadian Mortgage Housing Corporation (TR) (VC,W)

Hydro grid

*Employment

*Saving in power cost

Native language (PCI,W) (VC,OL)

More community members speaking the language

Training

More trained personnel

Native arts and crafts (PCI,W) (VC,OL)

*More pictures on the Internet

*More sales happening and orders being made via Internet

Hotel

*Better, bigger, nicer hotel

*Employment

*Accommodation for people coming to the community

Band administration (OL,VC) (P,TR,PC)

Culture programs

NSL history on film from Bob Salter in Oshawa

Computer technician (P,PCI,PC,VC,TR,SS,OL,W,T)

More computers at home

Electrician

Saving in travel cost

Tutor escort (PC,P,TR) (VC,PCI)

Better education

Study phase (grid) (PC,P) (PCI,VC,OL)

Study phase (road) (P,PCI) (VC,T)

More infor on the all weather road

Winter road (T) (VC)

Information on the Internet about road access to community

Guiding (PCI,P,W) (T)

Trained guides

Mining and claims (W,PCI,P,T) (OL,VC)

Gain and shared benefits

Teacher's aid (P,PC,TR) (PCI,VC)

Better education

Information center (P,PCI,PC,VC,TR,SS,OL,W,T)

*NSL history on film from Bob Salter in Oshawa

*More photos about NSL, history, and people

Banking (P,PCI,T)

More cash staying in the community

New store

Photo studio (T,W,PCI,OL)

KFC (P,W,OL)

Gift shop (W,P,PCI,PC)

E-centre (P,PCI,PC,VC,TR,SS,OL,W,T)

Efficient smart program

Rental housing (P,W,OL,TR)

More original residents return to the comunity

Lot development (T,TR,P)

Sturdy houses

Headstart program (TR,P,W,OL,PCI)

Community involvement

Housing committee training (VC,TR,P,OL,PCI)

*Less crowded homes

*More houses

Office training (P,PCI,PC,VC,TR,SS,OL,W,T)

*Organized offices

*More effective employees who get the work done

Bookkeeping/accounting training (P,PCI,PC,VC,TR,SS,OL,W,T)

Better bookkeeping

Tourism (W,PCI,OL,TR,P)

*More clients and employments

*More planes

*More revenues coming to the reserve

Hunting (W,OL,TR)

Traditional food

Fishing (W,TR,OL)

Traditional food

Business management training (P,PCI,PC,VC,TR,SS,OL,W,T)

More businesses

Chef training (VC,P,TR,OL,W)

Better food preparation

Heavy equipment training (T,P,TR,OL,W,PCI,VC)

*Better roads

*More employment

Hotel management training (PCI,PC,W,TR,P)

Returning guests

Taxi (PCI,P,W)

Auto repair (T,VC,P,W,PCI,PC)

More cars on the road

Coffee shop

More people gathering and spending time with each other

Telephone technician (PCI,P,TR,VC)

Save in travel cost