Economic Development Day
Participants identified who was present and who was absent in relation to the economic development with the aim of ensuring that those who are away are invited to review and comment on the workshop results.
| | |
| --- | --- |
| Present | Absent |
| Susan Owen – E-Centre manager | Public works |
| Donald Moose – Band Councillor | Power authority |
| Rita Wassaykeesic – Telehealth coordinator | Band administrator |
| Salina Strang – Assistant technician | Major capital project coordinator |
| Teresa Wassaykeesic – Health director | Welfare coordinator |
| | Band council |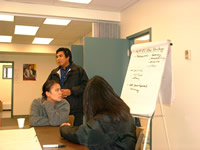 Then Jacob provided a summary of the economic development strategies for the KO communities.
Participants brainstormed on what Economic development mean in Poplar Hill
describing:
- the vision or results that the economic development workers are working towards (large bubbles),
- the programs they are involved with (in green),
- desired programs (in orange),
- how they are using and plan to use the technology that the SMART project brings to the community (in red),
- how they would like to use the technology (in blue), and
- what to measure to show that the visions or goals were being reached, or that the programs were moving ahead (yellow sticky papers)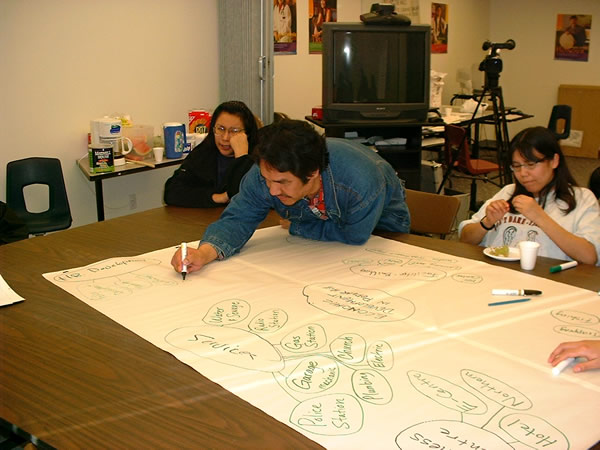 Table of Results, Programs, Activities, Resources, and indicators for Economic Development in Poplar Hill.
| | | |
| --- | --- | --- |
| Results | Programs / Activities / Resources | Indicators |
| Business centre | Hotel (P, T SS) (PC, PCI, W) | Clients, workers, employees |
| | E-Center (P, PC, PCI, VC, W, OL, TR, SS, T) | Computer access, staff support |
| | Northern store (P, T, PC) (OL, PCI) | More variety, bigger |
| Services | Gas station (P. PC, PCI, SS) | Gas accessible |
| | Garage (T) (P, TR, PCI, OL, SS) | Vehicles in longer operation |
| | Laundry mat | |
| | Church (T) (VC, PC, PCI, SS) | More attendance |
| | Radio station (P, T) (PC, PCI, SS) | Better radio programs, more listeners |
| | Police station (OL. P, T, PC, PCI) (SS, TR) | Additional office |
| | Water & sewage (P, PC, T) (PCI, SS, OL) | Maintained treatment of water and sewage disposal |
| | Pluming (T) (TR, PC, SS, OL PCI) | Increased employment |
| | Electrical services (T) (PC, TR) | Increased employment |
| | Taxi service (P, T) | Accessible travel |
| | Computer business (P, PC, PCI, SS, OL, TR, T) | More computer literacy |
| | Air transportation service (P, PC, PCI, SS, OL, TR, T) | Lower cost, convenient flights |
| | Restaurant (P, PC, PCI, SS, OL, TR, T) | |
| | Bakery (P, PC, PCI, SS, OL, TR, T) | |
| | Hair salon (T, P, PC, PCI, W, TR, OL) | Employment |
| Human resources development | Policy development (PC, PCI, OL) | Established policies |
| | Training (TR) | |
| | Certifications | |
| | Accreditation | |
| | Professional development | |
| | Workshops | |
| | Water & sewage training | More trained technicians |
| | E-Center training | |
| | Electrician training | More trained technicians |
| | Financial management training | Better financing, accurate financial forecast, better report on financial statement |
| | Business management training | Better business skills & knowledge |
| | Human resources training | Better teamwork |
| | Business law | Better understanding of business legislation |
| Natural resource development | Hydro (P, T, PC) | No diesel used |
| | Fishing (T) (PC, PCI, P) | Keeping traditional lifestyle |
| | Trapping (T) (PC, PCI, P) | Keeping traditional lifestyle |
| | Firewood harvesting (T, SS) | Heated homes |
| | Forestry (T, P, PC, PCI, W, TR, OL) | More employment |
| | Tourism (T, P, PC, PCI, W, TR, OL) | More employment |
| | Mineral exploration (T, P, PC, PCI, W, TR, OL) | More employment |
| | Commercial fishing (T, P, PC, PCI, W, TR, OL) | More employment |
| | Eco tourism (T, P, PC, PCI, W, TR, OL) | More employment |
| | Wild rice | Wild rice farm in Poplar Hill |
| Facilities | Laundry mat | |
| | Old hotel | |
| | Recreation centre (P, T) | Recreation programs |
| | School (P, PC, PCI, OL, W, TR) | |
| | Water treatment plant (P, T, PC) | |
| | Restaurant | Building exists |
| | Bingo hall | Building exists |
| | Day care centre (T, P) | Building exists |
| | Old age home (P, T, VC, PC, PCI, TR) | Building exists |
| | Larger Band office (P, PC, PCI, SS, OL, TR,T) | Building exists |
| | Youth centre (P, PC, PCI, SS, OL, TR,T) | Building exists |
| | Parking lot (P) | Parking lot exists |
| | Arena (P, T, TR) | Building exists |
| | Band hall | Building exists |
| | Training centre | Building exists |
| | Fuel store | Building exists |
| | Warehouse | Building exists |
| | Local business centre | Building exists |
| | Carpenter shop | Building exists |
| Hydro plant project | Location | |
| | Plans (P) | |
| | Big generating plant (P, PC, PCI, SS, OL, TR,T) | Lower power cost, employment |
| | Funds | Funds are available |
| | Grid | Power backup |
| | Linemen | Support for hydro, employment |
| | Self sustainable hydro system | No outages |