Education Day

The third day of the community engagement workshop in Poplar Hill was dedicated to education. Participants identified who was present and who was absent in the education sector, with the aim of ensuring that those who were away are invited to review and comment on the workshop results.
| | |
| --- | --- |
| Present | Absent |
| Jim Suggashie – Band councillor | Teachers |
| Anna Owen – Mental health trainee | The Education board |
| Barbara Strang – Community health representative | Parents |
| Anita Strang – Computer technician | Chief and Council |
| Salina Strang – CAP youth worker | Student rep. |
| Howard Comber – Education director | Elders |
| Teresa Wassaykeesic – Health Director | Social services |
| Ruth Wassaykeesi – Pre natal nutrition - educator | |

Brian Beaton (K-Net) provided a brief summary of the SMART and the progress made to date on the implementation of the SMART Project
Cards
Once again, participant expressed their expectations on cards.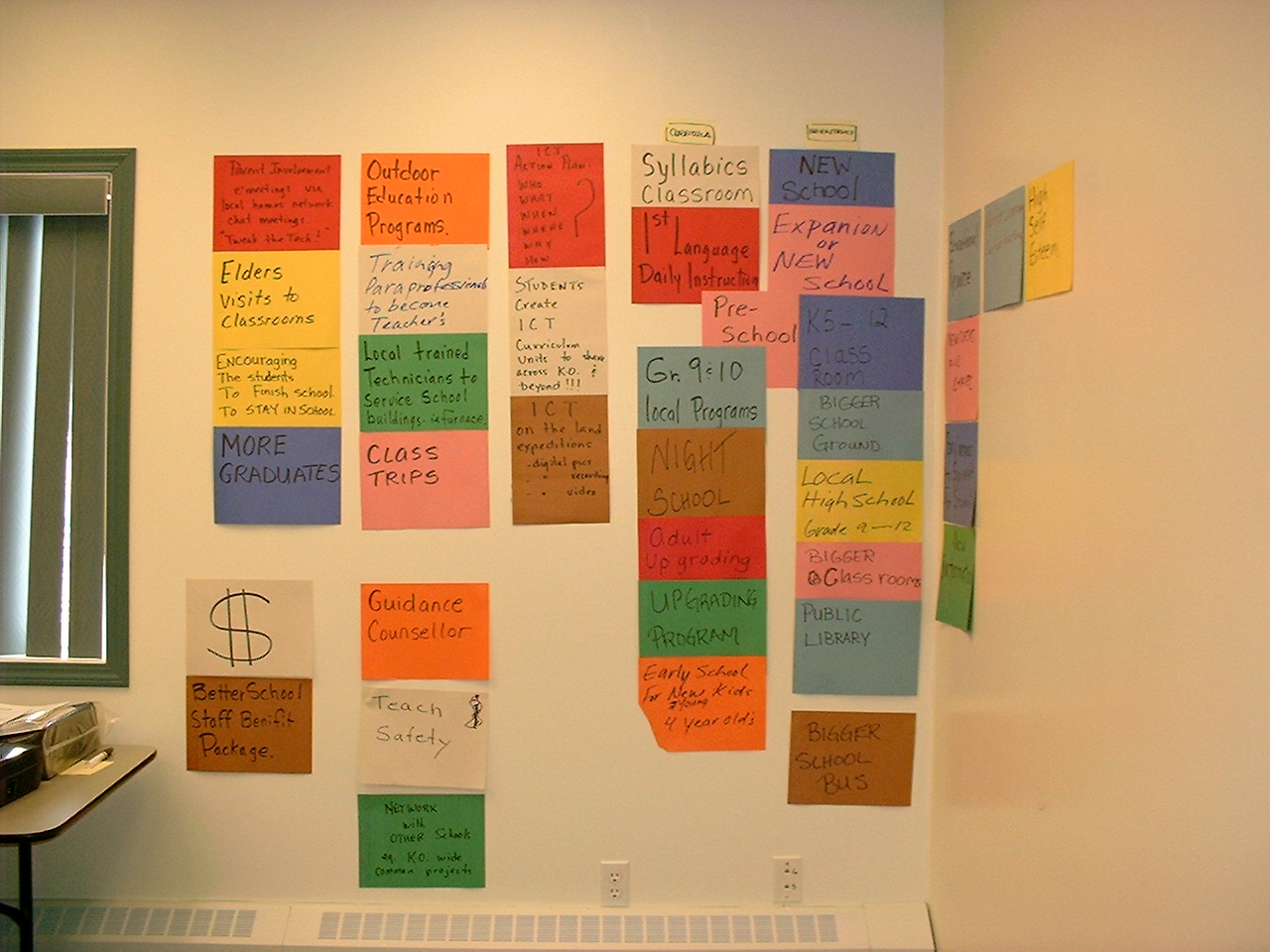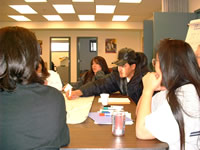 Participants brainstormed on what contributes to a Quality education in Poplar Hill.
The diagram allows everyone to "spray" their ideas on to paper describing:
the vision or results that the education workers are working towards (large bubbles),
the programs they are involved with (in green),
the desired programs (in orange),
the existing use of technology (in red),
the desired use of technology (in blue), and
what to measure to show that the visions or goals were being reached, or that the programmes were moving ahead (yellow sticky papers)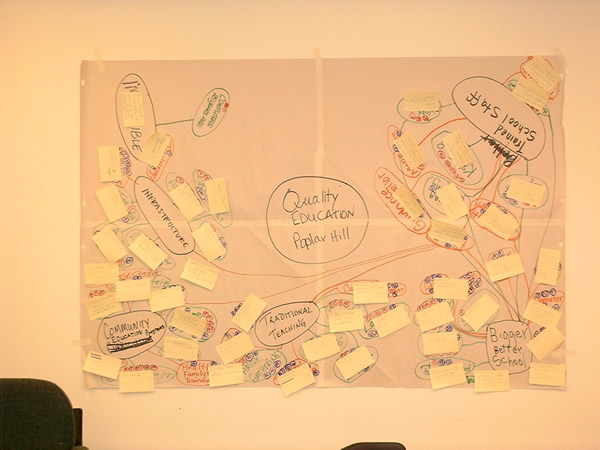 At the end, this was the results…

Table of Results, Programs / resources, and indicators for Quality education in Poplar Hill
The table below is a summary made from the diagram. Many program outcomes contribute to more than one result.
Results

Programs / resources

Indicators

Better Infrastructure

Satellite dishes (T, P, SS)

News, news updates, weather

Airport (T, P, SS, TR) (

Air ambulance

Night travel

Better service

Winter road (SS, TR, W)

Lower prices of goods

Roads (T)

Safety, awareness, supplies

Fire hydrants (T) (TR, SS)

Emergency fire team

Running water. (T, P)

Cleaner and healthier lifestyle

Store (P, PCI, PC, T, SS) (W, OL)

Community based shopping mall

Day care (TR, SS, T, P, W, VC)

Community workforce 70%

Teacherage (P, T, PC, PCI, SS)

Teacher retention

Community education programs

Ontario curriculum (P, T, PCI, W, TR) (VC, OL, TR)

More graduates

Radio station (P, T, SS, TR)

Communication, news

Canoe trip (T, TR)

Survival skills

CHR (P, PCI, T, TR, VC, OL, SS)

Health living lifestyle

Distance education (P, T, W, SS, OL)

Complete high school diploma

Wawatay (T, P) (PC, PCI)

News

Driver education

Responsible and safe drivers

Adult education (VC, OL, PC, PCI)

Post secondary degrees

Health family training (SS, TR, T, P, OL)

Parenting skill

Family involvement

Traditional teaching

Family gathering (P, T) (PCI, OL, VC, SS)

Feasts (P, T, W, SS)

Learn to cook wild meet and traditional food

Camping (T) (TR)

More traditional skills

Language (P, T, SS, PC) (PCI, PC, VC, W)

Keep language

Elder support (P, T) (VC, SS)

More visual involvement

First language (P, T, VC, TR)

Language is not lost

English remains second language

Non school settings (T, TR, P, VC)

Site established for teaching

Traditional gathering & dancing (P, T, TR, SS, W, PCI)

More gatherings

More culture

Cultural documentation (PC, PCI, T, P, VC, OL)

Bigger and better school

School bus (T)

Other services

Land (T)

Bigger space for school

Play ground (T)

Could hear the kids play

Existing building (P, PCI, PC, TR, T, OL, W) (VC, SS)

Photograph

Community centre (TR, P, T) (VC, PC, PCI)

More equipment

Library (P, PCI, PC, OL, TR, VC)

Children have more reading material

Science lab (P, PCI, PC, T, VC, SS, OL, TR)

Bigger school bus (TR, T, P)

Bigger school bus passing by

Grade 9 and 10 (TR, T, VC, PC, PCI, SS)

Computer lab (P, PCI, PC, T, VC, SS, OL, TR)

More computer training

More space (SS, OL, T)

More classrooms

Resources (W, PC, PCI, VC, OL, SS, P, T)

Lots of funding, more resources

Trained school staff

Breakfast program (P, T, SS) (PCI)

Healthy food

Vitamin & brushing teeth (SS, T) (PCI)

Better hygiene

K 5,6,7,8 (TR, SS, P, T, W, OL, PC, PCI)

Steady student population willing to learn

Work experience (T, W, PC, P) (TR, SS, T)

Better program delivery

Less cost to train or upgrade

Board & principal training (T, P, TR, SS)

Longer work service and better locally trained LEA/principals

More graduates

Pride in the community

Local trained people good models

Goals are reachable

Guidance councillor (TR, PCI, PC, SS)

Staff has been hired

Funds (T, P, VC, PCI, TR, SS, W)

Better education and teacherage program, and longer staff retention

Community support (P, SS, OL, PCI)

More people get involved

Training and upgrading

Better trained and longer on Board working using their experience

Impossible
Legend: video-conferencing (VC), personal computers with Internet (PCI); training (TR), service support (SS); On-line services including list serves, chat, discussion forum (OL); websites (W); (P) phone, (PC) personal computer, and new technology (T)